Chenlong sawing machine won the "2016 National IPR demonstration enterprise" title
(Hits:)
Origin
Author
Add Time2017-08-23
In December 29, 2016, the State Intellectual Property Bureau issued a notice, Zhejiang Chenlong sawing machine Limited by Share Ltd was named "national knowledge demonstration enterprise" in 2016, fully demonstrates the Chenlong technology innovation. At the same time, China's weapons industry group, China's first automobile group, China Shipbuilding Heavy Industry Group and other well-known domestic enterprises have also been selected.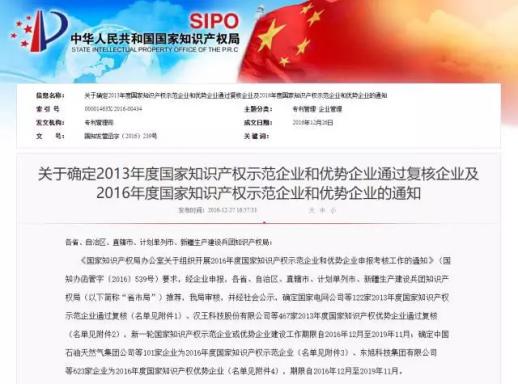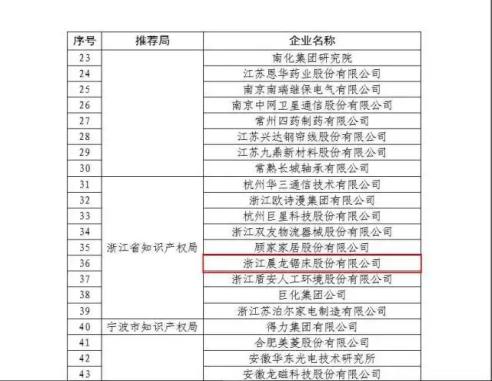 Chenlong since its inception in 2000, always adhere to the "development strategy of intellectual property rights" and "development strategy of the company" principle, pay attention to the transformation of scientific and technological achievements in the field of intellectual property. In 2012, the establishment of the Intellectual Property Office of the direct leadership of chairman Ding Zelin, through the establishment of management system research and development, procurement, production, sales, trade circulation enterprises of intellectual property rights, intellectual property rights to the enterprise will integrate various functions and services, intellectual property rights has been rapid development.
Chenlong intellectual property event
2006: was named as the patent demonstration enterprise in Zhejiang Province
2009: it has been listed as the fourth batch of pilot units for intellectual property rights of national enterprises and enterprises
April 2012: the State Intellectual Property Rights pilot unit has successfully passed the inspection and acceptance
April 9, 2013: through the first batch of standards (to implement the "enterprise intellectual property management norms" national standards), and was rated as excellent enterprises
November 7, 2014: won the first batch of national standards for the management of intellectual property rights of enterprises, the national standard certification certificate
December 2014: "national intellectual property rights advantage enterprise" title
2015/2016: successfully passed the first, second Supervision Review of the intellectual property system
The morning was selected as the national model enterprise of intellectual property, intellectual property rights will further deepen the demonstration to create work, to achieve the strategic objectives of the company by leaps and bounds.
It is reported that the 2016 annual national model enterprise of intellectual property assessment activities is the State Intellectual Property Office in accordance with the requirements of "national model enterprise of intellectual property development work plan", mainly for the enterprise of national intellectual property advantage expires, and has a certain influence in the domestic leader in the development, to achieve "perfect knowledge, cultivate the knowledge property right management the advantage of property, the formation of competitive advantage", is a national key project for cultivating a number of independent intellectual property rights and the well-known brand, competitive Chinese intellectual leader and the development. The enterprise selected "enterprise" national intellectual property model, related intellectual property finance, fiscal policy, key technologies in the field of patent examination, enterprise intellectual property rights, management, personnel training and other aspects to enjoy the corresponding policy support. Awarded the national model enterprise of intellectual property after the expiry of three years, review by qualified enterprises, the renewal of qualification.