Seek common development plans Gong Zhu Chen Lung brilliant - strategic victory will convene germinal
(Hits:)
Origin
Author
Add Time2016-05-21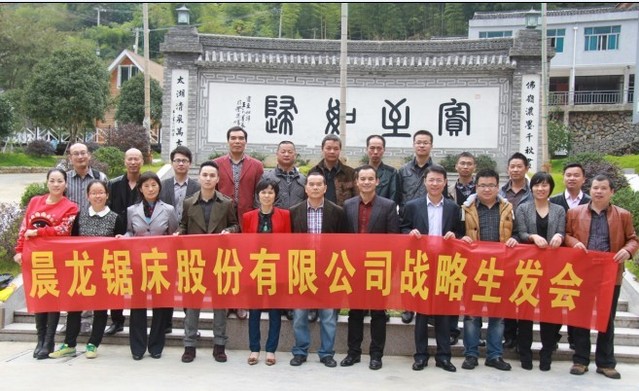 November 9 to 10, Long Saw morning germinal strategy in Taizhou Serenity Villa held this germinal company will mainly focus on three-year strategic planning. Ding Zelin, chairman and general manager Ding Zeqiang, financial consultants love Dan, strategic consultant Ren Yong, senior cadres total of 24 people attended the meeting, and seek common development plans Long Saw morning. </ P> November 9 morning 7:30, will participate in strategic germinal 24 people on time in the company's centralized, uniform travel by bus. The strategic location of germinal held secret, so that everyone is full of expectations, until you reach the destination of the moment, to know the company chose the beautiful environment of the Taihu Lake Villa.
10:30, Long Saw morning germinal strategy will begin in Conference Room Serenity Villa. First, the chairman Ding Zelin made an important speech, analyzes the future direction of Long Saw morning of the current situation and the company, stressed that the company should focus on technological innovation, research and development capabilities and improve product quality, the products must be of high, refined, specifically, special and smart, NC direction. Meanwhile, the chairman proposed the "morning-long five years into the world's top eight or ten years into the top four," the development goals, and stresses the need through technological innovation and research and development to enhance the core competitiveness of enterprises. Chairman of the Board affirmed its full hair growth, staff attitude, change in morale, we believe the company through full hair growth, we must make better morning-long development go, healthier and more stable. Next, the strategy consultant Ren Yong explained the purpose and significance of strategic germinal and germinal proposed topics of the meeting. Dingze Qiang, general manager of the company as a strategic germinal
will host in two days of the conference, the company three years to lead the team strategy germinal. The topics will include strategic germinal corporate culture (mission, vision, core values, entrepreneurship, business goals) complement and interpretation, internal and external environment analysis and summary of key strategic indicators next three years, reaching the next three years measures and strategies needed to determine the internal customer support departments of companies. Germinal be divided into four teams, including the team leader and all the issues included, all through a wonderful part of the PK produce. Before each topic PK, we have been fully germinal four teams, and other groups recommended by the Panel random drawing lots podium by the chairman, financial advisors, strategic consultants and other groups as the judges scoring voted one, two, three name.

Long Saw morning strategy meeting germinal victory held the next three years to determine the ideas and the development of strategic indicators, to determine the main direction of development of products and the next three years, while identifying and corporate brand-building measures culture, and the strategies needed to complete the next three years to support measures to guarantee. Marking the company's development has entered a new stage, more targeted, more scientific development, management more in place, laying a solid foundation for the future development of the company. </ P>